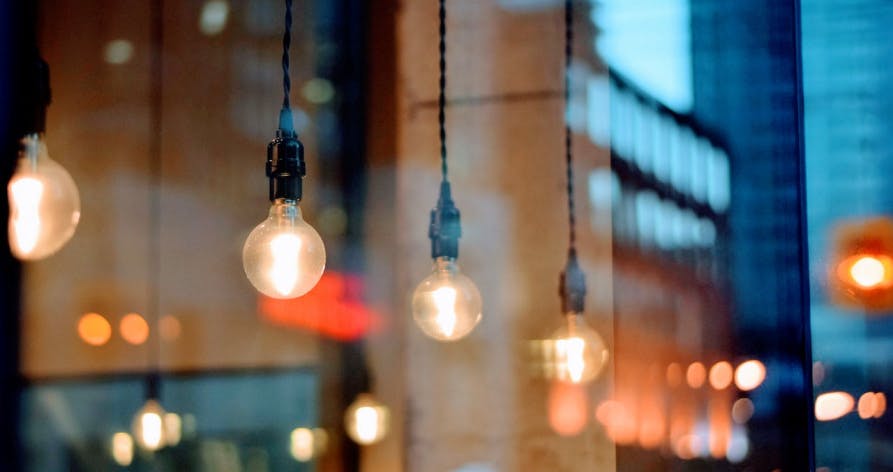 With investors becoming more interested in business with an environmental conscience, companies are striving to implement all of the best management systems possible to increase efficiency and reduce emissions.  
👉 What is an ISO 50001, and how could it help your company be more efficient?
What is an ISO 50001?
An ISO 50001 is a voluntary, international standard that is awarded when a company can demonstrate an effective energy management system. It is geared towards businesses who have committed to disclosing and reducing their emissions, and who are dedicated to developing a policy to make their operations more energy efficient.
The most recent version of the ISO 50001, released in 2018, can help organisations to improve their energy efficiency, develop a stronger Energy Management System, and establish new priorities that deliver on greater energy efficiency. 
What is an Energy Management System?
Energy Management System, definition
An Energy Management System, otherwise known as an EMS, is a guideline for businesses and organisations that aims to help them to better manage and reduce their energy consumption. Energy Management Systems help companies determine where it is most imperative to implement energy-reducing technologies and mitigate excessive energy consumption. An EMS is best established through third-party assistance and expertise. 
How can companies ensure their EMS is successful?
A successful EMS is contingent on strong leadership and dedication. Any organisation seeking to establish an Energy Management System should have a dedicated manager overseeing the EMS. Hiring a manager for your EMS can help mitigate the potential difficulties in transitioning to a more energy efficient business model. An EMS manager can also help to inspire other staff members on the importance of a methodical approach to energy management.
According to the International Organization for Standardization (ISO), a successful Energy Management System requires creating and executing an energy policy with viable reduction goals in mind, alongside monitoring of the progress of the energy reduction tactics. Examples of a successful EMS strategies include installing new technology to reduce energy consumption or altering the business model to reduce energy costs.
👉 An ISO 50001 is a global standard that can help implement and provide continuous guidelines for improvement in any organisation's energy performance. Think of an ISO 50001 as a golden rulebook for an effective Environmental Management System.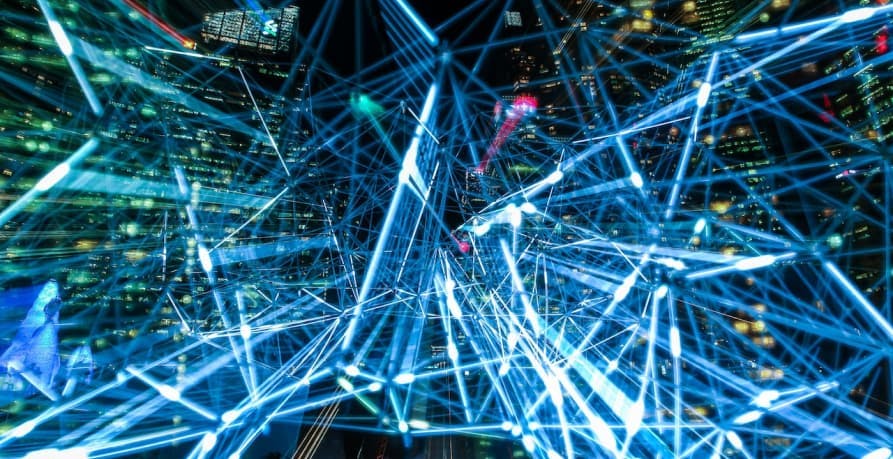 What are the benefits of an ISO 50001?
An ISO 50001 is beneficial for any company seeking to reduce their energy costs or avoid excessive energy consumption. It can help a company to implement the energy tactics necessary to reduce their emissions, as well as maintain the new strategies employed. Whats more is that the continuous adjustments can help a company to progressively improve their energy consumption and costs, which is good for both the environment and the company's wallet. 
Acquiring an ISO 50001 can make it easier for a company to establish and maintain energy efficient habits. It provides a clear framework for organisations seeking to improve their energy efficiency by helping a company to:
Develop policies to reduce energy consumption
Set logical energy reduction goals
Understand the data regarding energy consumption to help inform future energy reduction decisions
Monitor new energy consumption policies
Continuously improve energy management
Ultimately, an ISO 50001 and a better Energy Management System can help a company to improve their overall productivity and improve upon stability, which can reap benefits for customers, stakeholders, and employees alike. Not only does it improve the technical processes of a business, but it also helps to stimulate future business productivity and financial success.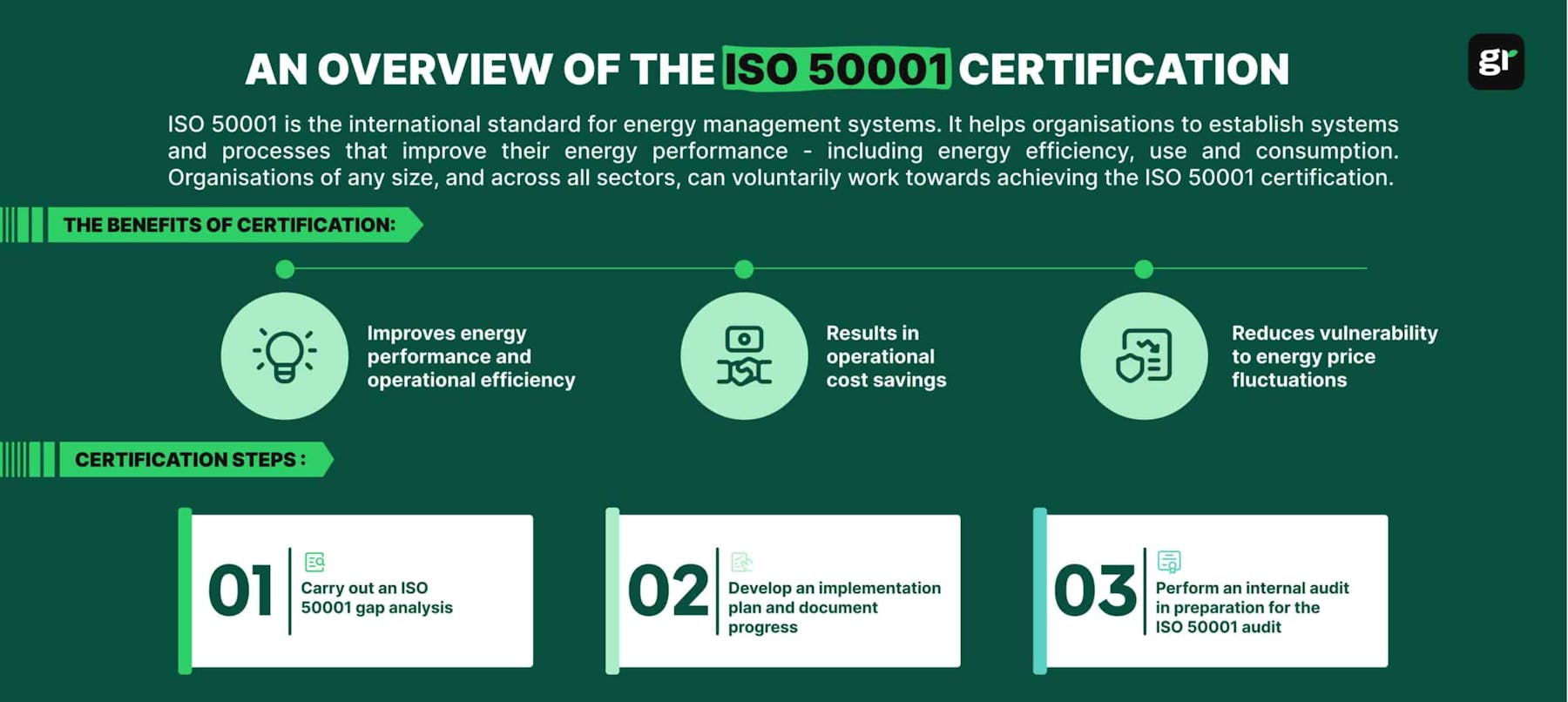 Why is an ISO 50001 valuable to your business? 
Contribute to the fight against climate change
The effects of climate change are becoming more and more apparent. According to the most recent report of the IPCC (otherwise known as the International Panel on Climate Change), the continued rise in global surface temperature is being caused by high-carbon emitting human activities: for example our increasing reliance on fossil fuel burning transportation methods, and the industrialisation of our manufacturing processes. 
Satisfy stakeholders
There's a reason why investors, employees, customers, governments, and businesses are becoming more preoccupied with reducing emissions and implementing sustainability – it's because the situation is dire, and remains a problem that will keep getting worse until true, corrective action is taken to alter the course of climate change. 
In fact, these days it's almost essential for businesses to demonstrate their environmental values if they want to be successful. Certifications like an ISO 50001 not only demonstrate a company's commitment to continual improvement of its management systems via ISO management system standards, but it helps the company be held accountable to their environmental goals.
Comply with regulations
Governments are getting more serious about climate change too: with the UK Government implementing its Ten Point Plan and the new Inflation Reduction Act of 2022 being passed in the US. Acquiring certifications like an ISO 5001 can help your company stay one step ahead of any future requirements that you may be obligated to comply with – such as the energy requirements depicted in the U.K.'s Energy Saving Opportunities Scheme, otherwise known as ESOS
An ISO 50001 is valuable to organisations operating in any sector and companies across the board are beginning to recognise this. In fact, there has been almost a 10% global increase in ISO 50001 certificates awarded science 2020.
Long story short, an ISO 50001 not only demonstrates your commitment to improving energy efficiency and management today, but also shows that your company is in it for the long haul.
How is an ISO 50001 different from an ISO 9001 or an ISO 14001?
All of the certifications in the ISO series can benefit a company in the long run by establishing more productive systems, but each ISO certification focuses on a different management system. 
An ISO 9001 refers to establishing a successful Quality Management System, otherwise known as a QMS. A Quality Management System is a system that records the various policies and procedures necessary to ensure customer satisfaction through the sufficient quality of products and services offered by the company.
An ISO 14001 helps a company build a viable Environmental Management System – otherwise known as an EMS. An EMS can help a company reach their various environmental goals through constant monitoring and adjusting of their current environmental objectives. 
A Quality Management System, Environmental Management System, and Energy Management System are all pivotal to ensure the smooth running of your business, while also ensuring that your company satisfies the emissions reduction tactics necessary to fight global climate change.
How can your company get ISO 50001 certified? 
Similar to the other ISO certifications, it isn't compulsory to get an ISO 50001 – but it can prove helpful for the future success of your company.
The requirements for an ISO 50001 certification incorporate the following:
Understand what an ISO 50001 and potentially enroll in training classes to ensure your knowledge regarding the standard
Understand what to focus on in order to improve your Energy Management System
Develop a new energy management plan for approval
Document your new energy management plan
Implement your new EMS
Perform an internal audit
Finally... you can seek the ISO 50001 certification!
The documentation required for an ISO 50001, as well as the other certifications in the ISO series, is rigorous and time consuming. After reviewing all of the necessary requirements to prepare the documentation for your Energy Management System – is it essential to make sure that any new processes are added to the documentation before requesting your ISO 50001. Therefore, documentation can often take a lot of time as many additional documents will be needed over the course of requesting an ISO 50001 certification, as adjustments will be continually made throughout the process. 
👉 The good news is that once your company has acquired an ISO 50001 certification, it is valid for the next three years. 
All in all, it isn't difficult to acquire an ISO 50001 – but it is definitely time consuming, and your company has to be dedicated, not only to the steps required to establish an Energy Management System, but also to maintaining the new EMS. 
Is an ISO 50001 worth acquiring? 
While it's easy to view an ISO 14001 as the most general ISO certification, since it pertains to environmental management and therefore can act as an "umbrella" guideline for an Energy Management System, an ISO 14001 cannot provide as much information as an ISO 50001 can in terms of energy efficiency. 
Energy conservation is more important than ever before: with skyrocketing electricity prices, and countries like the UK being forced to consider full on blackouts to preserve their finite resources, which are only growing sparser – finding new ways to power the elements we need for our everyday lives isn't becoming a cool feature, but an essential one. 
Promoting energy efficiency and improving our energy performance isn't just good for the environment via the reduction of greenhouse gas emissions, it's good for businesses too. By making energy management improvements and requiring more efficient energy management when it comes to business operations, companies can also make long-term cost savings. This money can then be put to further food use, for example it could be used to implement technologies such as a carbon capture and storage system to reduce their emissions even further. Actions like this can help to improve a company's chances of attracting future investors.
👉 Bringing awareness to energy consumption is imperative, and an ISO 50001 can help a company and its employees take one step closer to a clean energy future, and a less polluted planet. 
What about Greenly? 
If reading this article about ISO 50001 has made you interested in reducing your carbon emissions to further fight against climate change – Greenly can help you!
Greenly can help you make an environmental change for the better, starting with a carbon footprint assessment to know how much carbon emissions your company produces.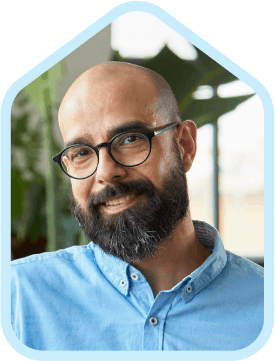 Green-Tok, a newsletter dedicated to climate

green news
We share green news once a month (or more if we find interesting things to tell you)
More articles
3 Mistakes to Avoid in Procurement
In this article, we'll review what procurement is, why it's important, and 3 mistakes your company should try to avoid during the procurement process.