Platform.sh carries out its Carbon Footprint with Greenly!
Today, Platform.sh is proud to announce the completion of their second carbon assessment with Greenly. This marks a huge step in significantly improving carbon emission for our customers, reducing their digital carbon footprint and supporting our joined efforts towards Net Zero!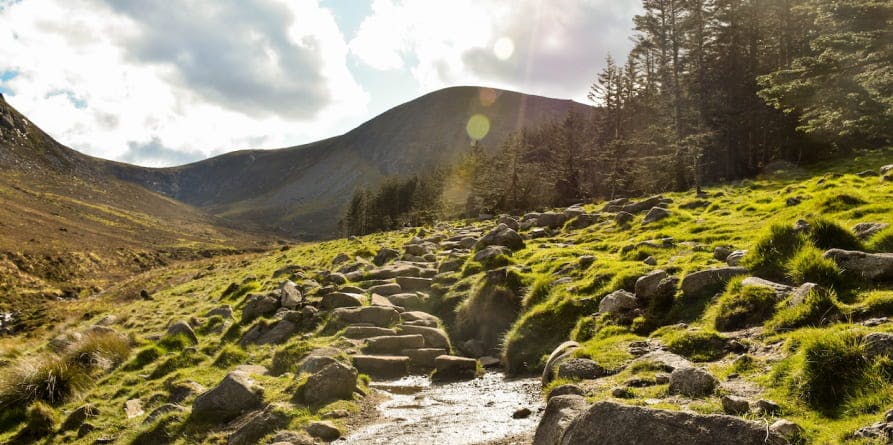 Analysis of the results
We've decided to commit to fighting climate change, and to reduce CO2 emissions. To do this, we've decided to act, and act quickly. We believe we provide instant long-term benefits to our customers, drastically reducing their digital carbon footprint. We're continuing to work closely with our clients, partners and ecosystem to consolidate our approach and reassert our deep commitment to the environment.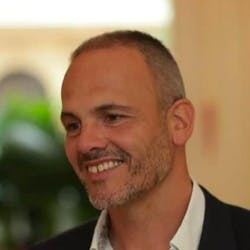 Frédéric Plais
CEO & Co-founder - Platform.sh.
Tell us about the Platform.sh adventure 🔍
Platform.sh is the cloud platform engineered to simplify building, managing, and scaling your websites and applications. Whether you have one application or one thousand, our Platform-as-a-Service (Paas) empowers your developers to take the load off of infrastructure management, and allow us to do the heavy lifting for you. No training required. Test fearlessly with instantly cloned environments, deploy with confidence knowing your application will work as it should from the start, and manage your infrastructure from one, unified, secure platform. 
We are dedicated to reducing the effects of our activity on the environment and through our greener hosting MODE strategy, we're making that a reality. As a Platform-as-a-Service (PaaS), we help our clients minimize the environmental impact of their applications by hosting them in the cloud, but for us, greener hosting doesn't stop there. Through the four phases of our MODE strategy - measure, optimize, deploy, and educate - we help reduce impact further. We are utilizing accurate certified third-party carbon auditing, high-density computing and application optimization, location-based hosting, and consistent investment in research and development. You don't need another server, we just need to optimize what we have.  
Audit year : 2021 Results 🌱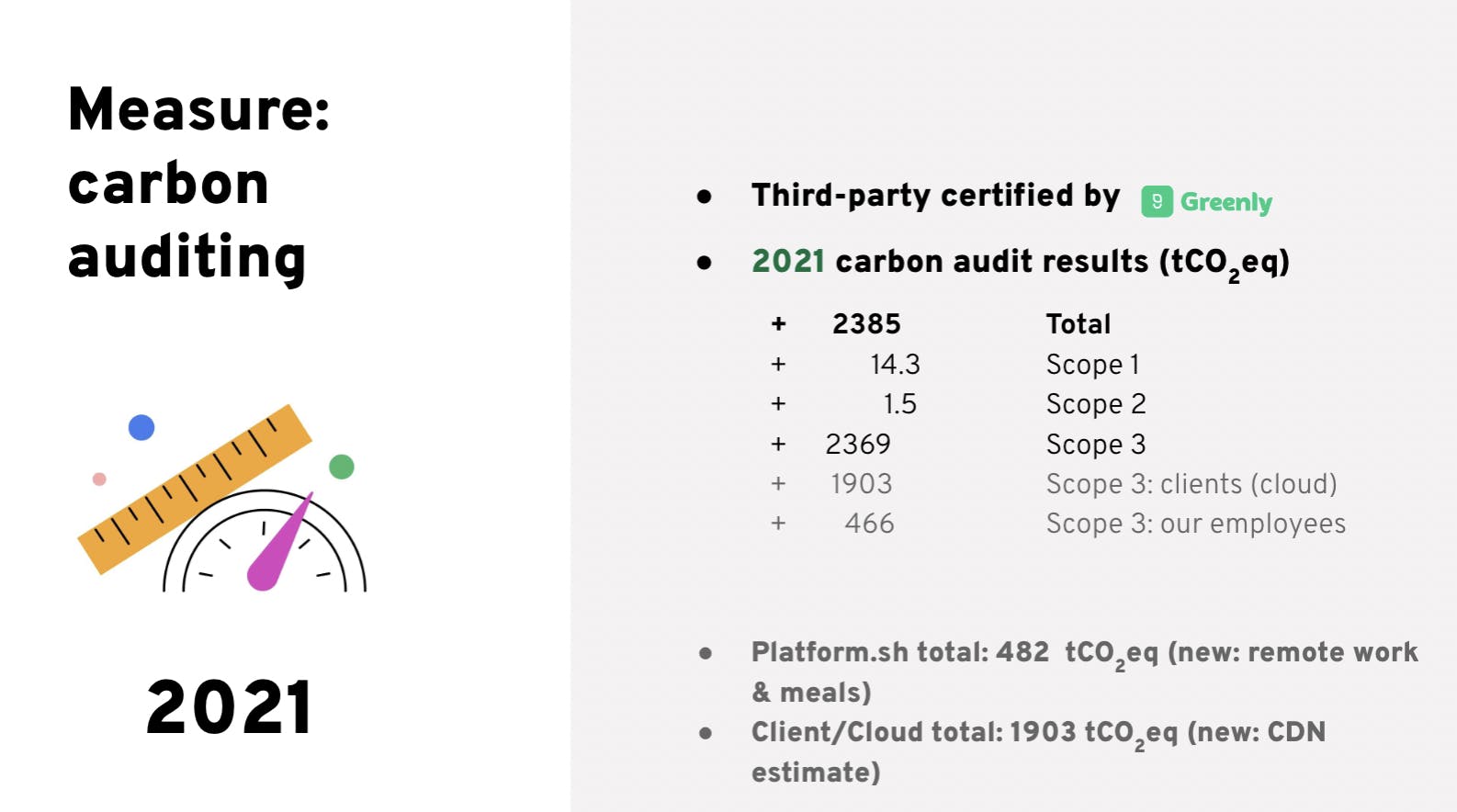 Total :  2385 tons CO2eq
Scope 1:       14.3  tons CO2eq
Scope 2:        1.5  tons  CO2eq
Scope 3: 2369    tons  CO2eq
Total from Platformers : 482 tCO2e/year
Number of Platformers : 263 
Scope 1:      14.3 tons 
Scope 2:       1.5tons 
Scope 3:  466 tons (new: included remote work) 
Total for cloud computing (clients): 1903 tCO2e/year
Emissions compute: 1026
Storage: 196
Transfer: 443
Other*: 32
CDN: 207
*other emissions tied to the datacenter
Audit year : 2020 Results 🌱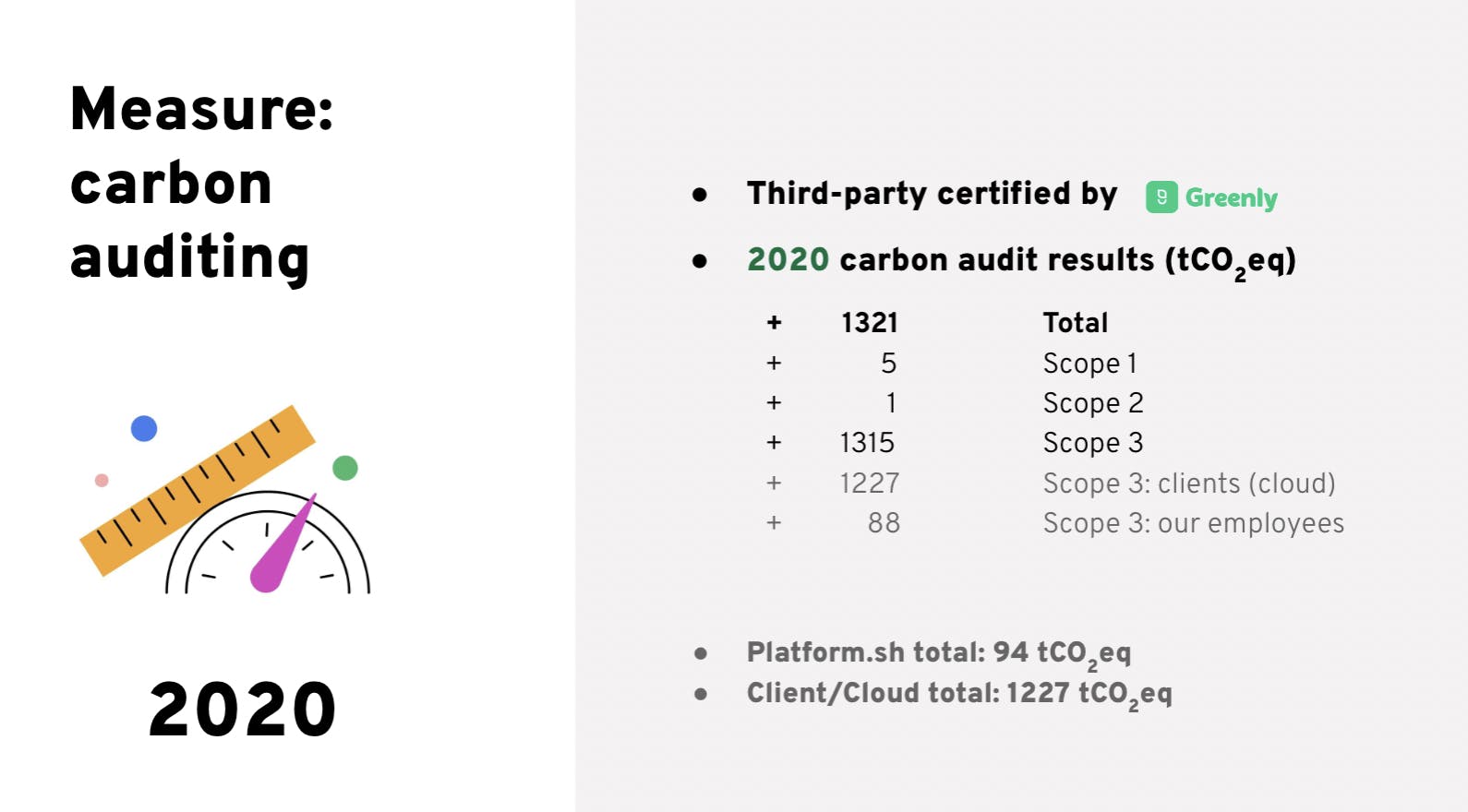 Total : 1321  tCO2e/year
Scope 1:      5 tons 
Scope 2:      1 tons 
Scope 3: 1315 tons 
Platform.sh's carbon footprint (without our client's cloud contribution)
Number of Platformers : 200 
Total: 94 tCO2e/year
Scope 1:   5 tons 
Scope 2:   1 tons 
Scope 3: 88 tons 
Platform.sh's clients' Cloud audit : 1227 tCO2e/year
Compute: 715
Storage: 151
Transfer: 342
Other datacenter emissions: 19
CDN (N/A)
Density Study 📊
Using Platform.sh' 2020 data, Greenly performed a density study to see how efficiently Platform.sh uses CPUs in the cloud compared to a standard deployment (AWS Elastic Cloud 2).
Platform.sh density was on average 12x more dense for their offering with the highest mutualization possible (grid) – -this means 12x less electricity was used to run an equivalent workload. More specifically, the breakdown was:
14x higher density for development
10x higher density for production
And 5x more dense for clients that requested low mutualization of resources (dedicated). 
This reduction in resource use, means less electricity is used by the datacenter, and ultimately lower CO2 emissions. On average for the globe, this translated into a 9x lower CO2 emission factor compared to the "bare mental scenario" due to Platform.sh superior density offer for their highly mutualized approach and 6x lower emissions for the less mutualized approach. 
Discover our 

case studies