Join the 1500+ companies committed to fighting climate change
The world's #1 solution to start your

net zero

journey
Scope 1, 2 and 3
First step to your climate engagement is to measure your company's CO2 emissions each year, to better reduce them then.
Activity-Based
Seek out Activity-Based factors that employ your real activity data as this will provide you with robust measurements.
Spend-Based
Greenly has developed a technology for automated analysis of the carbon impact of activities via Spend-Based method.
Benchmarking
Get a thorough analysis of your emissions on our dashboard and compare yourself with other players in your industry.
Connected software
Greenly synchronises with most of your business tools, whatever your job or activity is.
Stay updated
To make sure you're relying on the latest data, we regularly update databases to reflect the most recent emission factors.
Optimal Security
We hold SOC certification and comply with ISO 27001 standards, which means that your data and value chain is secure.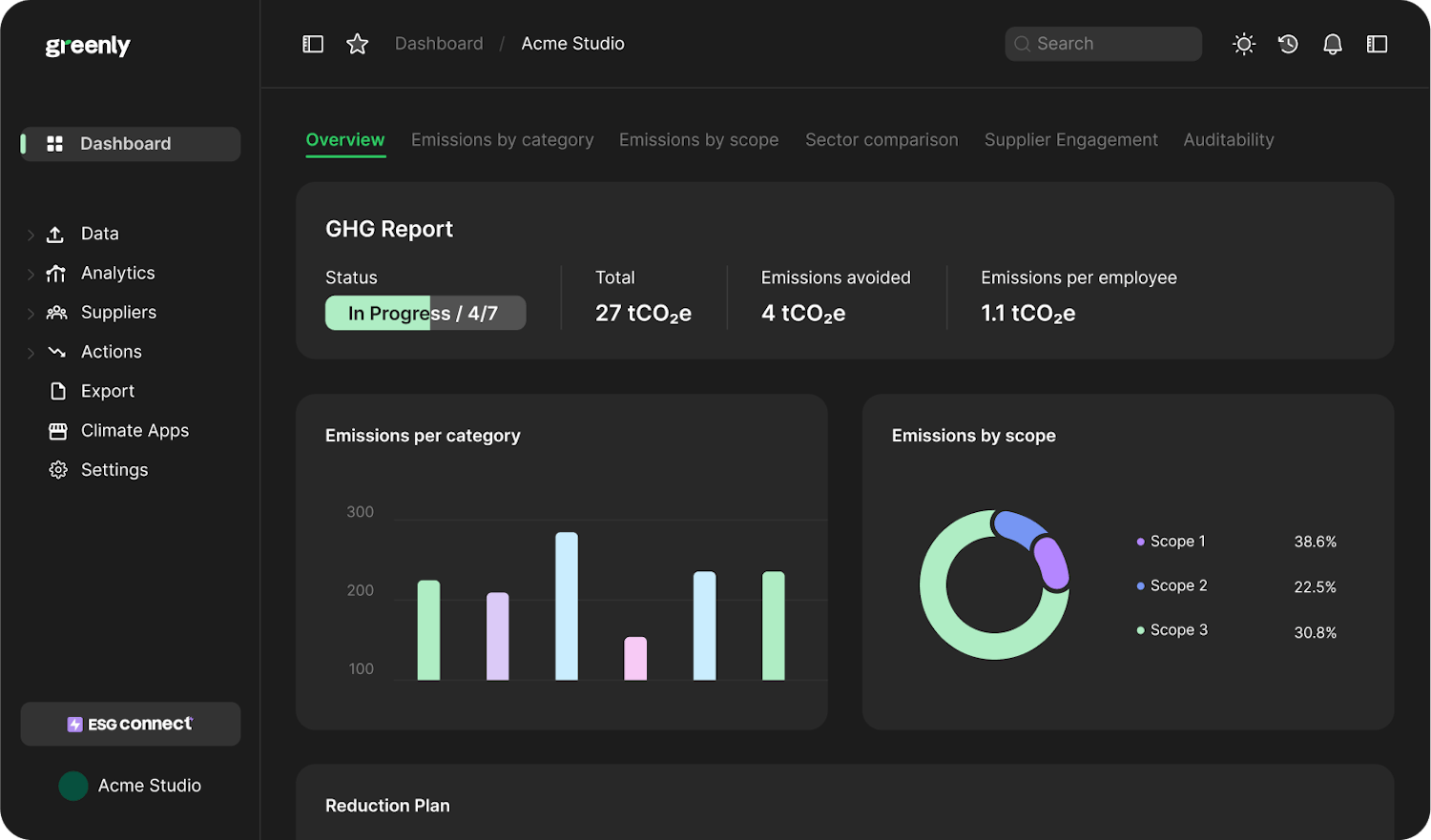 The strategic choice for your

business
80%
of investors consider sustainability criteria in their investment decisions.
Source: FTSE Russell
71%
of consumers prefer to spend more on a brand that is committed to climate action.
Source: IBM Institute for Business Value
70%
of employees are more inclined to work for a company with a real CSR approach.
Source: Deloitte
A unique and intuitive platform
Integrate your companies flow charts into the platform, monitor your CO2 emissions autonomously, and compensate what you can't reduce. All on a single interface for 100% control and visibility of your carbon accounting.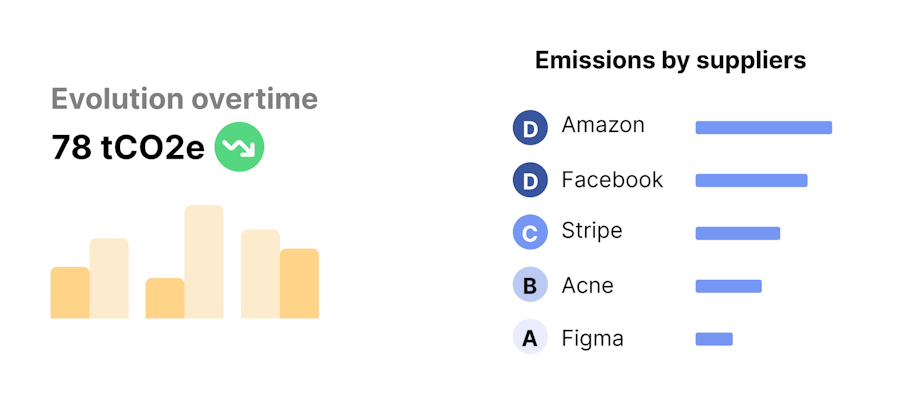 Online support
Technology alone isn't always sufficient to create a successful approach to reducing your carbon footprint. At Greenly, you'll benefit from the online support of real-life climate experts that are trained to guide you on your roadmap.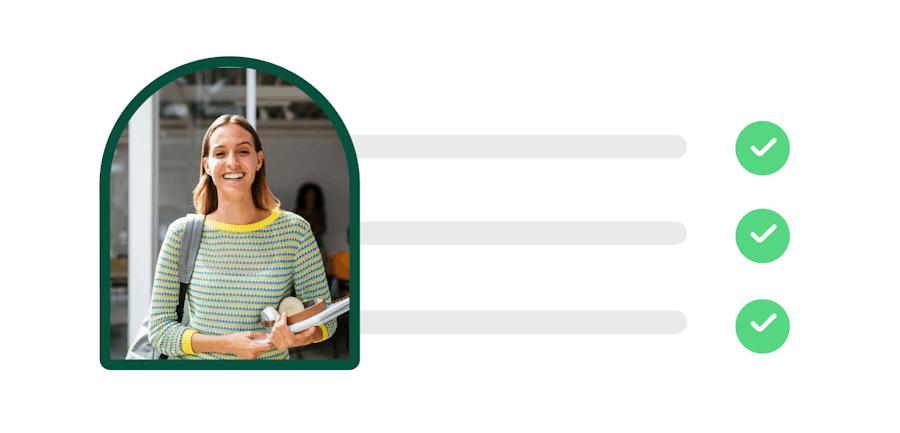 Customers testimonials
Meet the people and companies for whom climate change matters!
FAQ
Do I need to download any software?

Greenly is cloud-based and accessible on all your devices. There's nothing to download. All you need is a subscription and an internet connection.

How do I pay for my plan?

We accept all major credit and debit cards - Visa, MasterCard and AMEX.

What are your certifications?

We are certified by ADEME (French Environment and Energy Management Agency), GreenHouse Gas Protocol (global equivalent), and CDP (Carbon Disclosure Project). We are also certified by GreenTech Innovation and by the Ministry of Ecological Transition. Recently, our solution was awarded the Science Based Targets label.

Why does the price of a carbon assessment vary depending on the sector of activity?

The price of a carbon assessment varies according to its level of difficulty. Some sectors of activity are more difficult to analyze than others in terms of environmental impact.

Has Greenly's methodology been approved by a scientific committee?

Yes, Greenly's Scientific Council is made up of about ten people: experts in the field of climate, economists, but also members of civil society who are willing to support the structure in developing its solution.

Does Greenly take physical and monetary flows into account?

The accounting export file will allow us to obtain conversions of $ into CO2 via the ADEME emissions factors. When we have identified items with high emission factors, we will complete them with physical quantity measurements and work with more physical data from your organization (MW...).

Is the data provided by clients secure?

Yes, a security insurance plan is available in our appendix. Additionally:

- an audit (now closed) has been conducted by the CNIL (Commission Nationale de l'Informatique et des Libertés);

- we have already been evaluated by many banking clients (BNP, RCI Bank); 

- Greenly employees are trained in security rules via the Qontrol platform.